Here we have a two page spread from the next instalment of Hopeless Maine, the book that, all being well, will come out in 2020. Our two page spread theme for the next book will be people doing the make do and mend activities that keep life on the island going. Partly to tell a wider story about island life, and partly because we're interested in promoting these things as a more sustainable way of being in this world.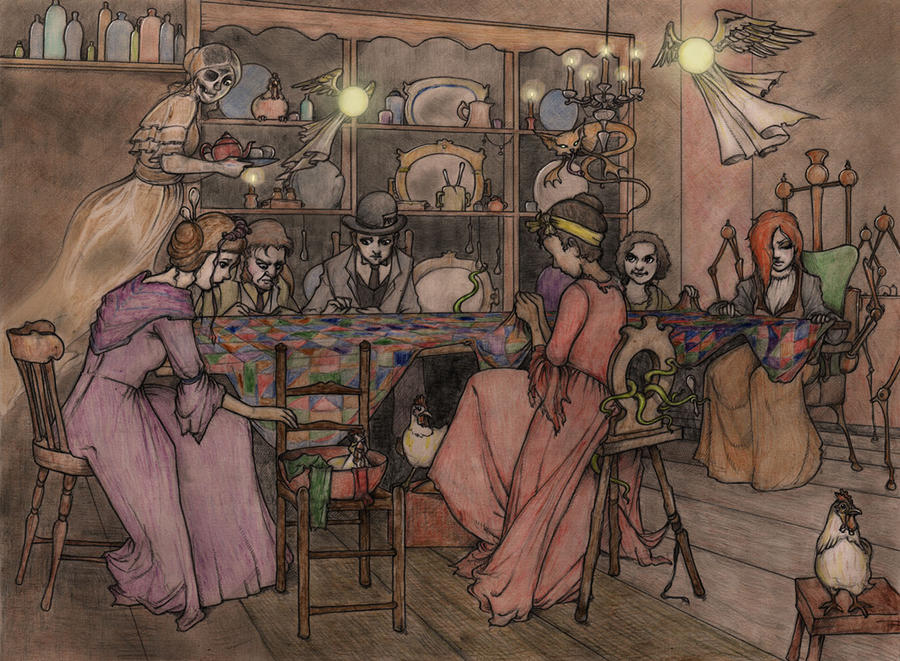 Rather a long time ago, Tom's then housemate asked him where the queer characters were in Hopeless. It led us to have a conversation about it – for most characters we just don't see what's going on in their love lives, so the queer folk of the island are often invisible. But, we know who they are, and when we get into the prose fiction there should be more space for this sort of thing.
In this image we have several 'confirmed bachelors' with all this implies. We have several asexual characters. There's one character who worries about mis-gendering devices (one day I will finish the prose book she is in, and people will be able to read it…) At the moment we don't know much about the two women in the foreground, but I think they're a couple.
The other thing we're going to do with the upcycling scenes is avoid grouping people in gender stereotypical ways. Where resources are scant, craft skills are essential for everyone, and the idea that some of these things are innately masculine or feminine is not going to be a thing.