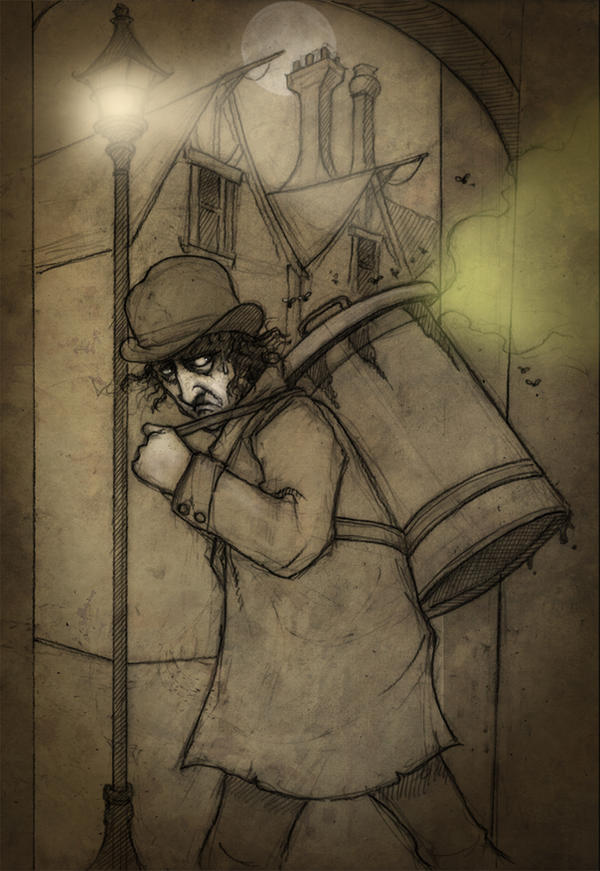 While attempting, without any great success, to map the island of Hopeless, Sophia O'Stoat believed that she had discovered her long lost cousin, Killigrew. It appeared that since his disappearance, over a year earlier, he had been living among the Commoners, who dwelt in the shadow of the Gydynap Hills. Sophia wasted no time in returning home and reporting back to his father – her uncle Caswell – who asked her to take him to the place where she had spotted Killigrew.
Like all who lived on the common, Corwen Nailsworthy was unused to receiving visitors. When a tall, gaunt stranger rapped at the apothocary's door, the old man had no idea what to expect. He withered visibly beneath Caswell's intense gaze.
"Is it right that you have my son, Killigrew,  here?"
Corwen immediately guessed to whom the stranger was referring. Both the newcomer and the girl who accompanied him bore an uncanny resemblance to the strange lad that he had nursed back to health. Corwen invited the pair in, offered them a cup of elderberry cordial, and told the tale of Killigrew's rescue and long recovery.
"His memory is completely blank, poor fellow," said Corwen. "I had no idea of his name until you told me, just then. We just call him the Night-Soil Man."
Caswell raised a quizzical and decidedly annoyed eyebrow. He had heard of the night-soil collectors of his own country. This was a job far beneath the dignity of an O'Stoat.
"It's his choice totally, sir," said Corwen hurriedly, sensing trouble. "Nobody makes him do it."
"Take me to him, please," said Caswell curtly, not entirely trusting the old man.
Caswell could hardly believe that he was looking at his son. He had always regarded Killigrew as being somewhat effete, given to indolence and too much romanticism. The young man who stood before him was sturdy and muscular, not at all like an O'Stoat. Besides this, he smelt like a cesspool.
"Killigrew? Is that really you?'
The young man stared at his father blankly; there was no hint of recognition in his eyes.
"I don't know. That's what she called me earlier," Killigrew pointed at Sophia, adding
"And who are you?"
Caswell placed his hand firmly on the young man's head and closed his eyes in deep concentration. The two stood motionless for what seemed to be an eternity.
Slowly Caswell opened his eyes once more and removed his hand from Killigrew's head, placing it instead on Corwen's shoulder. The old apothecary stiffened uncomfortably.
"You spoke the truth. I can never thank you enough for saving my son – the O'Stoat family will be forever in your debt. And now I'd like to take him home, where he belongs."
Corwen's heart missed a beat. He had heard of the O'Stoats. Rumours of their mystical abilities had been whispered in every corner of  the island.
If Caswell had possessed a fatted calf it would have been slaughtered in Killigrew's honour. As it was they had to make do with squid pie (this was, of course, some time before starry grabby pie had been invented). Sadly, despite his family's efforts to restore his memory – which included no small amount of magical persuasion –  Killigrew did not recognise any of them or have any recollection of his past. Nothing worked. A stranger in his own home, Killigrew longed for the solitude he had enjoyed as the Commoners' night soil collector. Eventually his family relented and decided to let him have his way. They built him a cottage, far away from any other habitation, next to an old and apparently bottomless sinkhole, where few dared to venture. With heavy hearts they gave him their blessing to carry on with his chosen life. If you care to look into the history of Hopeless – or read the tale 'The House at Poo Corner' – you will find that Killigrew O'Stoat is recorded as being the island's very first Night Soil Man.
You will recall from the tale entitled 'Killigrew and Joliette' that the Chevin brothers had viciously beaten Killigrew and left him for dead. You may well ask why they did not finish the job, once they learned he still lived. The answer is simple. By the time that everyone was aware of Killigrew's reappearance he had firmly established the role of the Night Soil Man, going about his work under the cover of darkness, thereby guaranteeing his not having to meet other people. It is a life suited to the the most introverted, the most reclusive. The Night Soil Man, protected as he is by his malodorous calling, repels every terror walking the island – even the Chevins.
By Martin Pearson-Art by Tom Brown