Hello, again people! (and others)
It is the new year, and I hope it brings you many good things.
I have spoken before, I think about how, at the beginning, when we first imagined how things might go with Hopeless, Maine, that we thought one day we would work with artisans and craftspeople if there were to be any HM related artifacts. No factory made things or plastic tatt that would one day end up in a landfill. Well, it's dream come true time. Matt Inkel (who I introduced to you, here) has begun working with us and the first fruit of this collaboration is Salamandra's Key.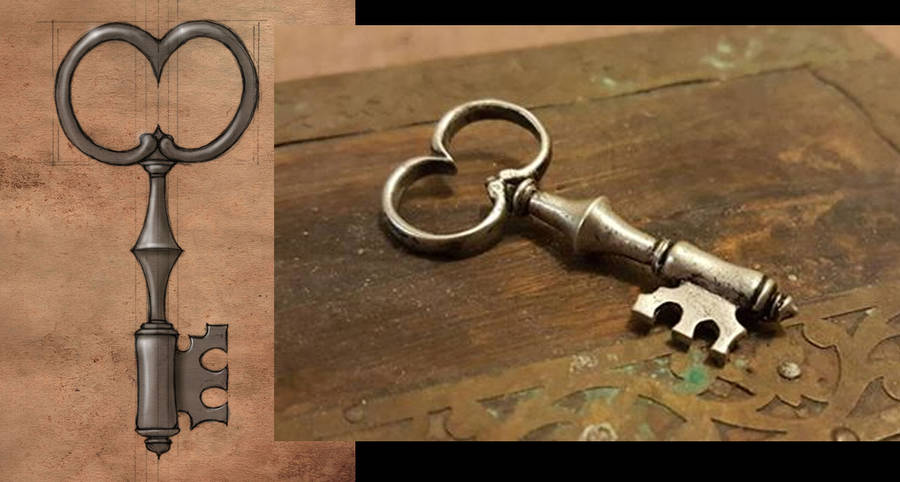 Here is my drawing of Sal's Key and Matt's finished prototype.
It's difficult to describe the feeling I get seeing something from our story made real in the waking world. It's a bit uncanny and utterly wonderful. For those of you who are having trouble recalling the significance of this key-
Those of you who have read the first book of Hopeless, Maine will recall that when Salamandra went to Annamarie for help with a very personal Demon, Annamarie gave her a key. She didn't sort the problem for Sal but gave her what she needed to solve her own problem. That key was well, key to the resolution of that story and Sal still keeps it about her person. In real life, I drew the cover for that book in a fit of excitement before Nimue had even written the book. Sal was shown with a key around her neck clutching a teddy bear (in very poor repair. more of a frankenbear, really) and Nimue wrote these elements into the tale."
This will be a limited edition sort of thing and very much handmade with great care by a ridiculously skilled artisan. (Look up Arcane Armoury to see more of Matt's work) Here are some process photos that Matt has shared with us.
There is a preorder page on the Arcane Armoury Site here. Please do visit.
Hoping (as always) this finds you well, inspired and thriving.