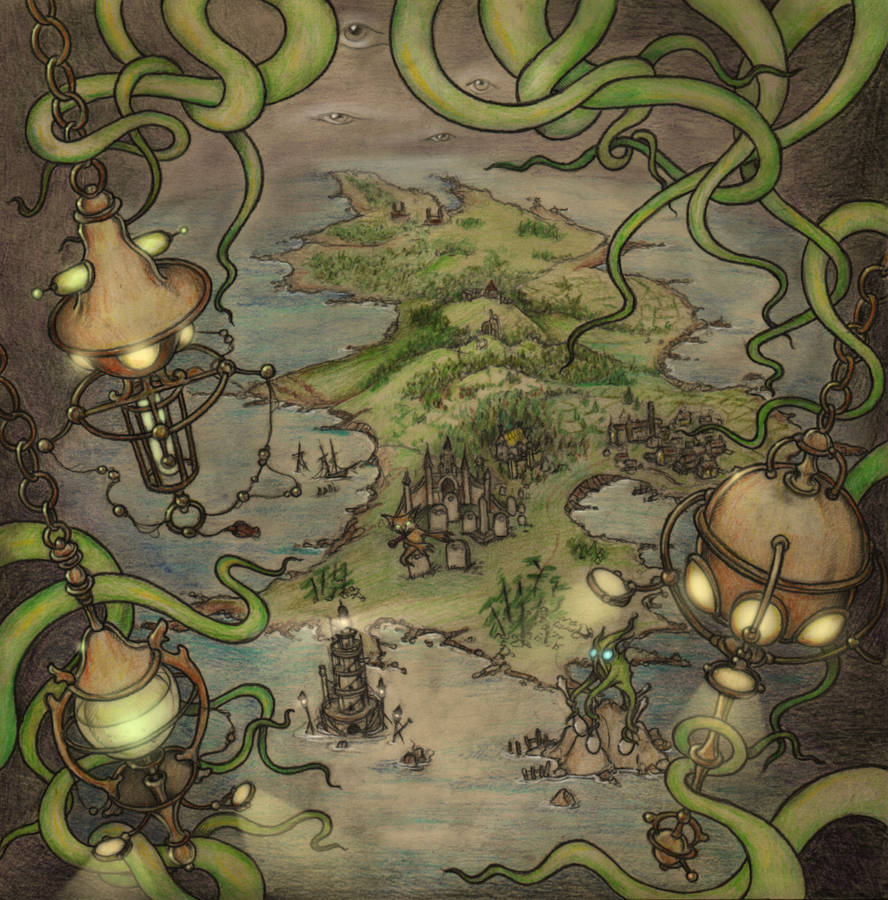 A year had passed since Killigrew O'Stoat had disappeared. His family had long since given up scouring the island for him. The general feeling was that he had been taken by one of the nameless menaces that haunt Hopeless and the waters that surround it. That was, at least, the official view. In reality, the O'Stoats were convinced that his demise had more to do with the Chevin family taking issue with his romantic relationship with young Joliette Chevin (and of course, they were absolutely correct). The Chevins, at the same time, believed that Killigrew had bewitched Joliette and his actions had driven her to madness and death. There was also the matter of their child, Ophelia, whose parentage was kept secret from all but the immediate members of the family and passed off as being the youngest of the Chevins – and perceived to be something of a surprise to her ageing parents!
In the tale 'The Sweaty Tapster' it is told how a rag-tag band of sailors and convicts – in the shape of whores and petty thieves, originally bound for penal servitude in Virginia – discovered a small, tightly-knit community living at the foot of the Gydynap Hills, in the area known, these days, as Iron Mills Common. These people, who called themselves Commoners, conversed in a language approximating to Old English and were probably descended from the Saxon slaves of Norsemen who had settled on the island centuries before. The influx of lusty young newcomers ensured that, by the time the founding families arrived some hundred years later, the ancient language of the Commoners had all but disappeared and their gene pool was considerably less shallow than it had previously been.
In order to survive the Commoners had taken to beachcombing on a grand scale. A party of ten or twelve would venture out with a variety of baskets, buckets and barrels, carried on their backs, scouring the shoreline for anything deemed remotely useful or edible. So, when they came upon the crumpled form of Killigrew sprawled upon the rocks, there followed some discussion in which it was unanimously agreed that he was definitely not edible. Whether he would prove to be useful was another matter altogether.
Corwen Nailsworthy was the nearest that the Commoners had to a doctor. He was their self-appointed vintner, distiller and apothecary. His remedy for most ailments involved the administration of one concoction or another that relied upon the fruit or flowers of the elder tree. When the bruised and battered Killigrew was presented to him, however, he realised that his medical skills would be pushed to their limit. Bone-setting and bandaging would be only part of it. The young man had been so badly beaten that no one could possibly know what internal damage had been caused.
The weeks turned into months and thanks to Corwen, Killigrew's body mended. His memory, however, had deserted him completely. He had no clue as to who he was, where he lived or what had happened. Furthermore, he had little desire to uncover his previous existence, convinced that he would not like the things he might find.
To begin with Killigrew was happy to stay among the Commoners  and hide from his past. As the time slipped by, however, he grew increasingly reclusive, eschewing the company of others. Although grateful to Corwen for bringing him back to health, Killigrew had no wish to interact with those around him any more than was necessary.
Despite his wishes, Killigrew was forced to relent a little. In order for any small community to thrive, every living soul has to contribute in some way. There can be no passengers, no hangers-on. Reluctantly Killigrew made it known that he was content to do anything and would happily embrace the most menial of tasks as long as he was allowed the solitude that he so craved. As it happened, there was one menial task above all others that no one had the slightest desire to fulfil. That is how Killigrew found himself collecting human waste – or the 'night‐soil', as the Commoners called it – and each morning ferrying it far away from the settlement, where time and nature might hopefully transform it into a usable compost. Strangely, Killigrew came to love his job. Nobody bothered him but in gratitude for his services, they left gifts of food on the doorstep of the little hovel he had constructed, on the edge of the common.
                       **********
Sophia O'Stoat, being an adventurous young lady, had made it her business to explore and map as much as the island as she was able. This was especially problematic, as certain vital landmarks had the annoying habit of disappearing, then turning up in odd spots where they had absolutely no business to lurk. Fortunately the larger, less portable places tended to stay more or less where they were expected to be. It was while she was surveying the area around the reliably immobile Gydynap Hills that Sophia spotted a once-familiar figure ambling over the edge of the common. She rubbed her eyes in astonishment. If it was not her long-lost favourite cousin Killigrew, then it was his double… but the smell! What on earth was he doing?
"Killigrew, is that you?"
The young man took no notice. She tried again.
"Killigrew. It's me Sophia."
Killigrew stopped and looked at the pretty girl who seemed to be calling to him. There was something vaguely familiar about her – and those names – where had he heard them before? He shrugged, turned and walked on; the bucket strapped to his back was too heavy to allow him to linger.
"Killigrew…" Sophia's voice trailed off as she watched the unmistakable shape of her cousin disappear into the mist…
To be continued…
Story by Martin Pearson-Art by Tom and Nimue Brown