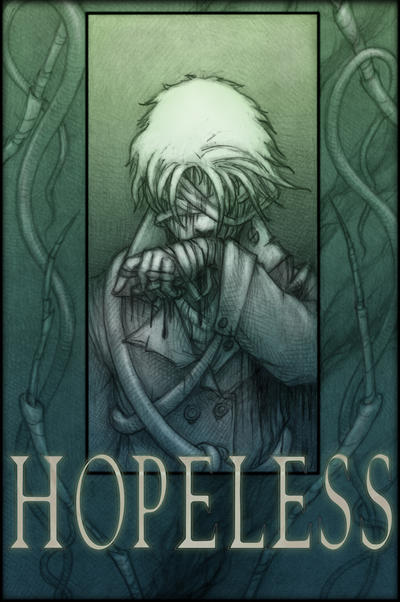 The Blind Fisherman is a sequence of illustrations and poems that you can currently find at the front of Hopeless Maine, The Gathering.
Before we get any further, I'd like to mention that the fisherman in question matches the legal definition of 'blind' in that he has significant sight impairment, not total blindness. This is most usually the way of it. Some of the things he does in the sequence have a magical component to them which is why he binds his eyes – it's just better not to be distracted by looking.
This sequence began life the autumn we launched Hopeless Maine as a webcomic (back when we were itisacircle.com). We'd started this Hopeless Vendetta site already while we were waiting for technical stuff on the webcomic. Tom wanted to launch with something a bit special, and also he is slightly masochistic, so he did this series of images telling a story. At the last minute he realised he wanted an extra image and sat up all night just before the webcomic launch! Not something I can recommend, but we weren't living together then so getting him to go to bed was a good deal more difficult.
The words followed the images. I was painfully inexperienced around comics at this point, and working with a forgiving webcomic format, not the harsh realities of the printed page. If I was doing it now, I would be thinking from the start about how the words might fit and be big enough that a middle aged person like myself might be able to read them! One of the pieces in the set pre-dates the art, and was written as a song in my late teens. It was such an uncanny match that I felt I'd been moving this way all along.
The Blind Fisherman wasn't in the Archaia editions, but Nick at Sloth was happy to give it a home when Personal Demons and Inheritance combined to be a single volume. It also meant we had something extra in there, which felt good. So at that point, that we had got an eccentric combination of art and words into the front of a fat comic was the extent of our aspirations.
Tune in next week for another instalment as I try and explain the curious journey of going from this initial body of work, to making a film.