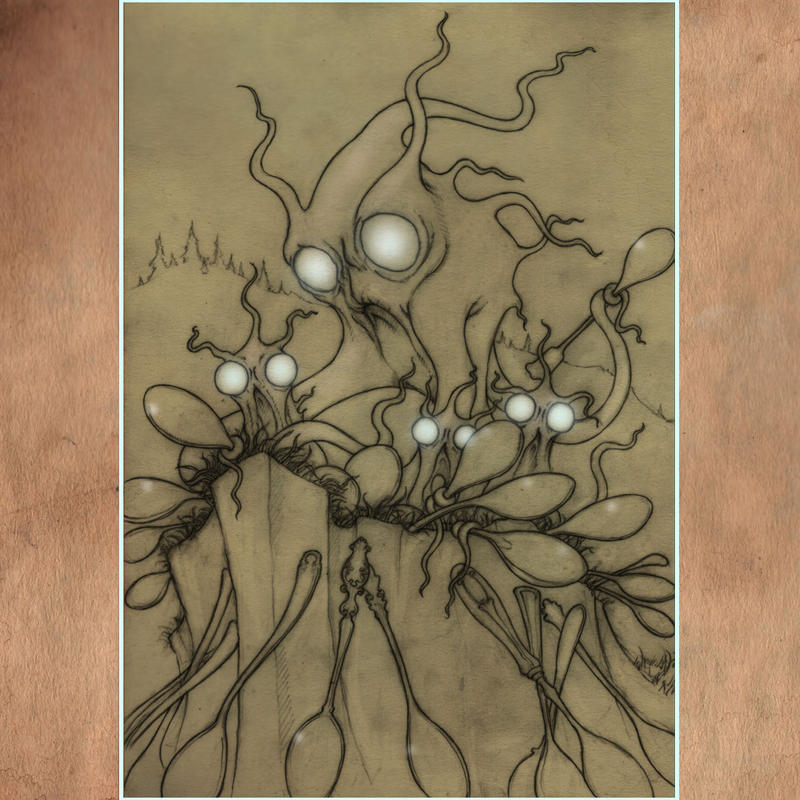 A month had passed since Hank had wandered unwittingly into Hopeless. For some days previously he had been searching for the legendary Lost Dutchman's Gold Mine, deep in the Superstition Mountains of Arizona, when his path led him to a fissure in the rocks, through which daylight and wispy fog issued improbably.
Hank was tall and wiry, two yards of whipcord draped in buckskin. He had had no problem in slipping through the narrow gap, though persuading his bulky backpack to follow had been more of a challenge. Eventually he had emerged, blinking and somewhat confused into the daylight.
You may recall, from the tale 'Dutchman's Gold', how Hank had met Philomena Bucket, who managed, with some difficulty, to convince him that he was not in Hell but in Hopeless, Maine, some two thousand miles from Arizona. Though he accepted Philomena's assurances, to Hank's mind, Hell seemed a more likely explanation, not least because of the presence of the skeletal dog, Drury.
With his usual generosity, the landlord of 'The Squid and Teapot' had given Hank board and lodgings in exchange for a few chores. While grateful, the prospector was keen to leave the island. He reasoned that if there was one path that could bridge two thousand miles in a hundred paces, there must be another and – dagnabbit! he was going to find it.
Hank said nothing of his plan to leave, either to the landlord or Philomena. As a token of thanks he left his pocket watch on the bar; it was a beautiful, antique half-hunter that he had won in a card game a few weeks before. For a man who had journeyed two thousand miles in twenty seconds, time and space had become irrelevant. The hands of the watch showed seven o'clock and somewhere, high above the ever-present fog of Hopeless, the sun was rising and attempting, with little success, to illuminate the island. Without looking back, Hank closed the door of the inn quietly behind him and set out for the Gydynap Hills, the place where his life on Hopeless had begun.
The path that wound into the heart of the hills was steeper than Hank remembered. A month of being relatively inactive had taken its toll on his stamina and despite the morning chill, he broke out into a sweat.
For hours he wandered the hills, desperately searching for something – anything – that would lead him away from Hopeless. Squatting on the damp ground, Hank gave himself time to get his breath back. The sun was low in the sky by now, ready to drop below the horizon, having given up all hope of penetrating the unforgiving blanket of fog. Stuffing his pipe with his last, precious, twist of tobacco, Hank scanned the area pensively, looking for some likely cave or feature in the landscape that would lead him away from this accursed island forever. There was nothing obvious, nothing that indicated 'Arizona – this way'. With a heavy heart he was about to give up his quest when a barely discernible movement caught his eye. Dimly, in this half-light, he spotted a small figure tottering unsteadily into a cluster of rocks, no more than twenty feet away, its tendril-like arms and legs clutching more spoons than it could comfortably manage.
"It's one of them weird things," Hank said  to himself. "Dam' nasty little critters that walk along on cutlery."
What was it that Philomena had called them? Spoonrunners? Something mad like that. As Hank recalled, one such creature had slipped into the doorway that had brought him here, just before it snapped shut. It could be worth following it.
By the time Hank had reached the tumble of rocks, the spoonwalker was long gone. A few yards ahead, however, a dropped spoon was lying on the rocky ground. Hank stopped to pick it up, noticing, as he did, the hole through which the creature had disappeared. Hank gasped. It seemed to be washed in a dim, green light which issued from somewhere deep inside the hill. This was hopeful! The gap  unfortunately, was no more than ten or twelve inches high and of half that in width. Maybe that garish, unearthly glow was some sort of sign that there was a path that could get him back to the Superstition Mountains. Hank looked around for something to prise the rocks apart, but could find nothing remotely suitable to use as a lever. Cursing his luck, Hank sat down, leaned against the cliff wall and closed his eyes.
"Dagnabbit!" he said aloud, "What I wouldn't give to get to the Dutchman's gold mine."
"And what would you give?"
Hank jumped up in alarm, not expecting a response. A tall, pale, almost cadaverous, figure dressed in funereal black was leaning languidly against the rock face.
"Jumping Jehosophat you gave me a turn," complained Hank, indignantly.
"I repeat… " said the stranger, firmly, "what would you give to get to the Dutchman's gold mine."
Hank eyed his new companion with some disquiet. From the outset he had been convinced that Hopeless was Hell; if that  was the case, this fellow was probably after more than he was prepared to part with.
"Well, you ain't having my soul, if that's what you're after…" he said, angrily.
The cadaverous stranger threw back his head and laughed. It was a hard, mirthless sound.
"Your soul… whatever do you think I would do with your soul? You might as well offer me your unkempt ginger beard or the ridiculous floppy hat that you're wearing."
Somewhat offended, Hank grew defensive. He was fond of his hat.
"Well, s'obvious I ain't got nothing you want, so you might as well go before you get me all riled up and I do something we both regret."
The stranger smiled. It was not a particularly pleasant smile but in that poor light Hank did not notice.
"How about…" said the stranger, in measured tones, "how about we come to some arrangement when you get to where you're going?"
Hank was becoming suspicious that there was more to this stranger than he was telling. He had heard tales of what happened to folks in Hopeless after the sun went down.
"And you ain't a-going to hurt me?"
"My dear fellow, why on earth would I wish you harm? No… no, I give you my word as a gentleman, I will cause you no pain whatsoever. This is purely a business transaction."
Hank shrugged. If this character was being less than honest with him there was little he could do to avoid it.
"Alrighty," he said, throwing caution to the wind, "get me to the Dutchman's gold mine and you can have half of what I've got."
"Wonderful!" exclaimed the stranger, giving the cliff face the gentlest of pushes,  "then we'll go straightaway. Follow me."
With a faint scraping noise the rocks parted and the two stepped into the lurid green light of the cavern.
Hank had expected the road back to the Superstition Mountains to be rough and narrow. He was quite incorrect on both points. He found himself on a broad thoroughfare that meandered gently down through the belly of the hills. He was feeling better already. That green light – wherever it came from – seemed less sinister now and his travelling companion appeared to be decidedly light-hearted, despite his gaunt appearance. The only niggle that bothered him was the fact that it was taking a darned sight longer to get there than it had to come. A darned sight longer!
"Are we nearly there?" he asked, unwittingly repeating the mantra chanted by every child, ever since the earliest human migrations began.
"Indeed we are," said the cadaverous stranger. "But first we must stop and eat. I have some particularly delicious cake that I'm sure you will enjoy."
Hank took the cake gratefully. The stranger was right. It was delicious.
"Ain't you eating too?" he asked suspiciously.
"No, I have a meal waiting for me at home. It would be a pity to spoil it."
Hank finished the cake and they walked on for another mile or so. Suddenly the stranger stopped and pointed ahead.
"Look, look – there it is. The Dutchman's gold mine."
Hank stared into the cavernous space before him.
"Where? I can't see nothing."
"Oh you will.. you will. Here it is – yours to work for all time."
The words flowed into Hank's consciousness like a river of honey. He shook his head and sure enough, there was the mine, just as he had imagined. Thick veins of gold ran like ribbons through the rock and the ground was littered with nuggets of every size and shape.
"The Dutchman's gold!" exclaimed Hank dreamily.
"Ah, yes, the Dutchman's gold." said the stranger, soothingly. "Look there are tools on the floor, picks and buckets – everything you need."
"Everything I need," echoed Hank in a flat voice, totally lacking in emotion. He bent down and reached for a pick that was not there.
Deep beneath the island of Hopeless, Maine, in a cavern wrapped in utter darkness, a figure goes through the motions of excavating gold from a mine that only he can see. Day and night he works, stopping only to drink brackish water and eat the thin shards of the mercifully nameless meat that is left for him. He has been told that it is beer and the best beef that Arizona can offer. He is content. His buckskin clothes are little more than tatters and shreds and his once red beard is now long and grey. Sometimes he sleeps and that is when they come to feed. The stranger told him no lies. There is no pain, no discomfort. Just a numbness as he unwittingly gives half of what he has. He is gradually fading and soon he will be no more than a wraith; only then will the illusion fade and the torment begin.
Story by Martin Pearson- Art by Tom Brown