Philomena Bucket, having fled Ireland, had endured a month cooped up in the hold of the merchant ship 'Hetty Pegler', with cotton pollen irritating her nose and eyes. Following the sudden death of the kindly ship's captain, she had been slandered as a witch and a harbinger of ill-luck by the first mate of the doomed vessel and now, as its sole survivor, she had reached the island of Hopeless, Maine. Within an hour of setting foot on relatively dry land, however, she found her leg to be in the vice-like grip of something that deigned only to show, so far, a single maliciously powerful, grey-green tentacle. As it dragged her towards its dark lair amid the rocks, Philomena had little doubt that such an unsettling extremity could only belong to a creature who was fully equipped to enjoy a robust and unfussy carnivorous diet.
Suddenly the darkness deepened as a strange, indistinct shape blocked out the meagre moonlight. As the figure drew nearer, she could see that it was that of a burly man with a battered hat and a huge bucket strapped to his back.
Without the newcomer having to say a word, or raise the stick that he was carrying, the suckered tentacle loosened its grip around Philomena's leg and slithered silently and sullenly into the shadow of the rocks.
''Are you alright ma'am? Sorry''
''I'm fine, thank you", she affirmed, "Though the old leg's a bit on the sore side."
She paused. "Why did you say sorry?" she asked.
"The smell. Sorry about the smell."
"Ah. Not a problem."
It had been such a long time since her olfactory functions had ground to a halt that Philomena had quite forgotten that she had no sense of smell. She could only assume that her saviour had been referring to some slight body odour or even – and Philomena's pale cheeks flushed ever so slightly pink at the thought – that he was apologising for having inadvertently passed a little noxious gas just before they met.
"You really don't mind?" even in this dim light Philomena could see the puzzlement on the man's face.
"No, not at all."
The Night-Soil Man shook his head in disbelief, tempered with no small degree of pleasure.
For those who have never encountered the Night-Soil Man, I should explain. It is his task to go about by night, servicing the cesspools, privies and earth closets of the inhabitants of Hopeless. It is a lonely occupation, executed with dignity and discretion by one who has been bred to the life. The Night-Soil Man is invariably recruited, as a young boy, from the orphanage. He serves an apprenticeship and when his master eventually succumbs, often sooner rather than later, to the strains and perils of his trade, the apprentice takes over. Because of the perennial stench that surrounds him, the Night-Soil Man is destined to be virtually friendless and definitely celibate for all of his days. The one advantage, however, to this seemingly dreadful curse, is that every creature on the island, however nightmarish, will give him a wide berth.
"Would you be knowing somewhere where I can dry me dress off and get some sleep?" she asked, hesitantly.
"There's always The Squid, or The Crow," said her companion, stroking his chin with a grimy hand.
Philomena was confused. The squid or the crow? What good were squids and crows if you wanted your clothes drying?
The Night-Soil Man saw the look on her face and assumed she had no wish to go to either establishment.
"Tell you what," he said.  "I'm going to be working for hours yet. I'll show you where I live, it's not far from here, and you can sort yourself out there. In private, like."
Fifteen minutes later Philomena found herself in the Night-Soil Man's cottage, drying her dress in front of the fire, while he continued on his rounds. For reasons he could not fathom he found himself to be somewhat distracted by thoughts of this pale stranger who had wandered into his life.
When he returned home, just before dawn the following morning, the Night-Soil Man found Philomena curled up in his armchair, snoring gently. Tenderly he draped a rug over her sleeping form and tiptoed out to the kitchen to make breakfast. He was not able to get that sweet, pale face out of his mind. There had suddenly manifested a strange sensation deep in the pit of his stomach, a sensation for which he had no explanation – unless, of course, it was the Starry-Grabby Pie that he had had for supper.
When Philomena awoke, some hours later, the Night-Soil Man offered to take her to 'The Squid and Teapot', an inn famed for its generosity towards newcomers to the island. Philomena would be safe there, until she found alternative accommodation or – as was so often the case – disappeared without a trace.
As they walked along the cobbled road to the hostelry affectionately known locally as simply 'The Squid' Philomena was somewhat alarmed to see anyone they encountered shrink back from them, covering their mouths and noses. As an albino she had suffered more than her share of discrimination over the years, but the people of Hopeless seemed extreme in their reaction. Standing in the courtyard of 'The Squid' the Night-Soil Man told her that he could not go any further.
"The landlord and his wife are good people – they'll give you room and board for as long as it takes. Help as much as you can and they will ask for no other payment."
Philomena thanked him and he watched wistfully as she disappeared through the stout oak doors of the inn.
Everything happened exactly as the Night Soil Man had predicted. Philomena was granted full board in a comfortable little room on the ground floor of the inn, in exchange for helping out with cooking, cleaning and other chores. After her experiences on the road, she was a little surprised to find that she received no hostile stares within its confines.
Each morning Philomena would find that a posy of tiny flowers had been left overnight and placed upon her windowsill. These cannot be called wild flowers as such; wild flowers, on Hopeless, are really wild. They attack people, run around on limb-like roots and generally cause havoc. No – the flowers on Philomena's windowsill were of the tame variety, flowers that had struggled up through the unforgiving terrain of this most inhospitable island. She had little doubt who had left them.
She developed the habit of getting up early and making her way to the Night-Soil Man's cottage, catching him just as he reached home at the end of his rounds. They would exchange news and gossip, laughing like children beneath the greasy, fog-bound skies of what passed as Springtime on Hopeless, Maine. As the days slipped by, a gentle, platonic love blossomed between the two. They would often sit in silence for hours, the tips of their fingers barely touching, each innocently enjoying the simple presence of the other.
It was maybe two weeks after Philomena first reached Hopeless that the landlord of 'The Squid' declared a state of emergency. The inn's supply of alcohol was running dangerously low. It was only then that she remembered that the 'Hetty Pegler' had been carrying a consignment of Irish whiskey. If the ship had not disappeared completely, maybe it was still salvageable.
Philomena, along with a small but enthusiastic band of 'Squid and Teapot' regulars, made their way to the cove in which the wreck still lay. She was lying considerably deeper in the water than Philomena remembered. She hoped that liberating the whiskey would not be too arduous a task.  The party set to and before long, a reassuringly large number of casks were sitting on the rocks. Besides these, they had managed to salvage a veritable treasure-trove of pots and pans, coils of rope, ink, paper, furniture, cutlery and crockery. All this had been carefully stacked, safely out reach of the encroaching sea, which was becoming increasingly rough, threatening to sink the 'Hetty Pegler' for good.
"Just one more look around before she goes down," yelled Philomena to her companions on the shore. Despite their declaring that they had collected enough and further trips would be dangerous, she ignored their protestations and returned to the ship for one last foray.  Waves had begun to break over the bows before she reappeared on the sloping deck, brandishing a bottle of rum and a china chamber-pot, both of which she raised above her head in triumph.  As she did so, the wreck gave an awful groan, like the death-rattle of some great beast. It lurched and, with little warning, rapidly slid beneath the waves taking Philomena with it. The watchers on the shore could only stare helpless as Philomena disappeared and the rum and chamber-pot flew into the air.
Luckily Philomena managed to escape the sinking ship before it had chance to drag her beneath its shuddering bulk.  All the same, she was no swimmer and the icy salt water was in her eyes, her throat and up her nose. There was seaweed – if seaweed it was – wrapping itself around her legs and tugging her to certain doom. She flayed wildly, desperate for life, not wanting to die just yet… or anytime soon. As if in answer to her unspoken prayers, she felt strong arms tugging at her, lifting her from the angry ocean. The salvage party had turned into a rescue party.
Philomena sat in front of a roaring fire in the snug of 'The Squid and Teapot,' drinking a bracing concoction of hot water and whiskey. The excursion to the wreck had been a great success and despite her last, somewhat foolhardy actions, she had become the toast of the island – but something was different. Philomena could not pinpoint exactly what it was but something in her life had changed.
The next morning, she made her way to the Night-Soil Man's cottage, as usual.  She smiled to herself; it was her turn to give him a present. During the previous evening she had taken one of the sheets of paper, recently retrieved from the wreckage, and sketched, from memory, his portrait. Philomena, it must be said, was an accomplished artist and had supported herself – albeit frugally – drawing and painting for some of the wealthier citizens of Cork, who unwittingly bore within them the spirit of the Medici.
The Night-Soil man came to greet her at the door, smiling broadly but his smile froze when he saw her reaction. She had stopped abruptly, a startled look upon her pallid countenance. She gagged, putting her arm to her mouth. If it had been possible for her face to have blanched even more, then it would have.
"It's okay," he said sadly, his head bent in despair. "It's not your fault. I understand."
She could not open her mouth to speak, for fear of retching, but the sorrow in her eyes said it all.
She reached out and stretching her arm to its full length, offered him the sketch that she had so lovingly made. He took it from her and for one last, brief time their fingertips touched.
"I love you," he said, softly, tears rolling down his cheeks.
She looked at him with brimming eyes, then turned and fled into the grey morning, uncontrollable sobs racking her frail body.
The Night-Soil Man returned to his cottage, his heart heavy. His tears had smudged the picture slightly but it did not matter. Written in neat, rounded letters at the bottom of the page were five priceless words that he would treasure forever.
'With all my love – Philomena'
"It's quite simple," pronounced Doc Willoughby, joyfully sampling a generous mouthful of the whiskey that Philomena had brought him.
"You were suffering with anosmia. Loss of smell. Almost certainly to do with the pollen stuck up your nose."
"But how…?" she started to ask a question but Doc, who never missed an opportunity to flaunt the limited knowledge that he possessed, cut her short.
"One of the remedies is to flush the nasal passages with salt water, which you did in some style, may I say."
Philomena looked down sadly. Anosmia. Oh, how she wished she still had anosmia.
"Can I reverse the process?" she asked, hopefully.
The Doc frowned. Why would she want to?
"We don't get troubled by too much pollen on Hopeless" he shrugged, pouring himself another drink.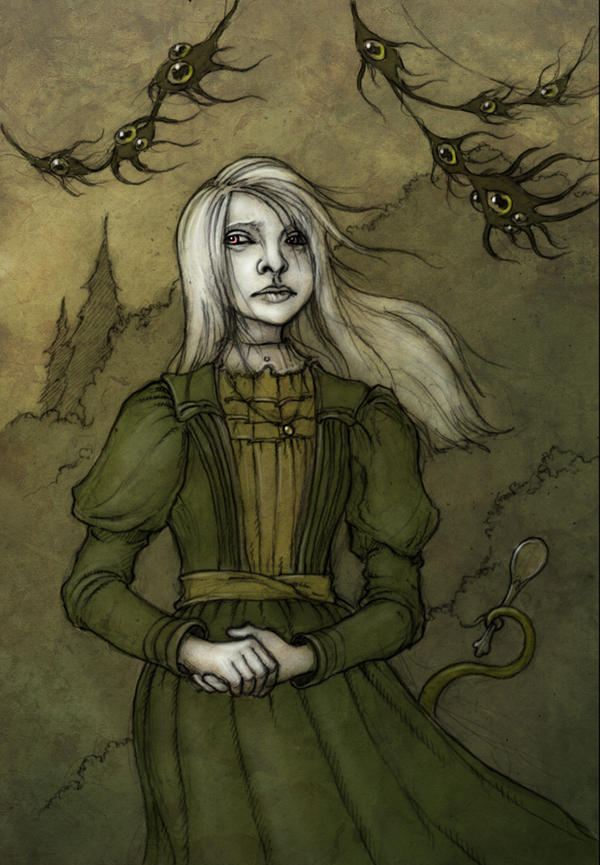 By Martin Pearson-art by Tom Brown