Readers of Hopeless Maine will be familiar with the gloomy figure of the island's Reverend – Emmanuel Davies. He's father of Owen (one of the main characters, for those of you new to this). He raises orphans, holds funerals, owns clothing clearly designed for ritual purpose. Sometimes he talks about God, but which God isn't always clear.
That he is a Reverend certainly suggests Christianity. But it's not that simple. He existed as a character, created by Tom, when I took the story on. At that point, we didn't know much about the Reverend. All I had to go on were the New England Reverends I'd encountered in the writing of Nathaniel Hawthorn, so I started from there. Frankly, that was a gothic and sinister sort of place to start.
If you've read The Gathering, you'll be aware of a short story at the back, about Reverend Davies' first hours in the job. It suggests a rather different kind of religious background. I admit there have also been times when I've wondered if he might be an unwitting Cthulhu worshipper, or otherwise accidentally involved with elder gods. I know there have been plenty of long, sleepless night when the Reverend himself has stared into the darkness and wondered what exactly it is that he serves, or whether it is all in his mind. I know that he hears voices, and some of those voices tell him what to do, and that while he is compelled, he is also uneasy.
In practice, what Reverened Davies believes has a somewhat Zoroastrian flavour. In an island full of lost things, it makes plenty of sense to have someone with a bit of Albigensian heresy to their name. Davies believes that the physical realm is mostly fallen, sinful, probably evil and when you look at Hopeless, Maine, it's easy to see why he might think this. God is somewhere else, clearly. If there is a good God, they are distant, unavailable, perhaps entirely in a realm of spirit you can only get to by totally renouncing all things of the flesh. Most of the time this means the Reverend is of limited use to anyone else.
Reverend Davies is a man in spiritual crisis, wrangling with the demons of his own uncertainty. It hasn't yet occurred to him to get out there and wrangle actual demons instead, but the seed of this thought is growing in his mind…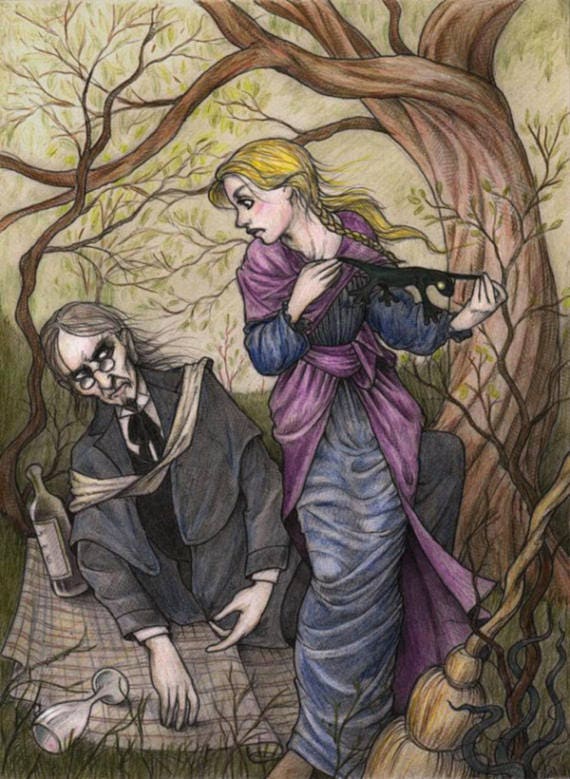 Here's Reverend Davies with Anamarie Nightshade having a Pre Raphaelite  moment. If this makes you wonder about the history of their relationship, keeping wondering…
We've got the original for this on sale at etsy – etsy.com/uk/listing/572025191/the-bemusing-of-reverend-davies-original
It's also available as a poster –  etsy.com/uk/listing/552719732/the-bemusing-of-reverend-davies-print